The third big Metropolix update, here's the highlights—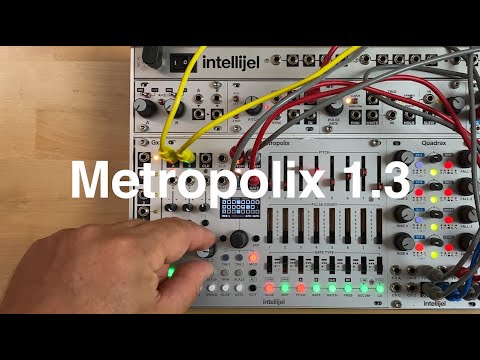 Here's the details—
1.3.0.0
New Ctrl/Mod/Aux over BPM! Create the waviest groove or Synced BPM changes with Mod Lanes, Aux inputs, your hands or all three.
New Preset Chains!

Chain and Sequence sets of Presets including the mute state of Track 1, Track 2 and Mod Lanes.
32 Links per Chain, each line has 1 preset and set of mutes represented, and can repeat up to 64x.
Full Add/Edit/Remove UI for managing Preset Chains.
Store up to 8 Chains on the module.
Access via "Preset Chains..." in SETUP Menu or via shortcut: Hold SETUP.
Quick Chain feature for fast creation and launching of a new chain during performance.
Option to Hold the chain position when using Loopy.

New Ctrl knob position can now be output as voltage on Outputs A+B (Unipolar 0-5v or Bipolar ±5v).
New Preset setup section under the SETUP Button. Settings here are saved with the Preset.
Changed Queued Loading behaviour. It is now called Load Delay, and it's no longer tied the LEN>Pulses parameter of Track 1 to determine when to load the next preset, it is only using the global parameter, Queued Pulses. See manual for details.
New "Total Pulses" preset setting, this defines an over all length for the current state or preset. When this count is reached, ALL tracks and lanes are reset. This parameter is also used for "Total Pulses" Loads and Preset Chaining.
New Load Option "Total Pulses" for synced loading of presets based on Total Pulses (with fallback to Queued Pulses value if not set).
Increase Queue Pulses maximum to 4096 (to account for 8 Stages * 8 Pulses Each * 64 Clock In Div), matching the Total Pulses maximum value.
Display "User Shortcut" on Scale and Order screens.
When selecting your Mod Lane, display the assignment on the action bar.
Other minor bug fixes.
1.3.1.0
Fixed incorrect Mod Lane assignments when loading presets saved on an older firmware version.
Fixed when tracks are set to ignore the Global Reset, they should still reset in a Preset Chain or Delayed Load.
Fixed Factory Reset boot shortcut, it was clearing settings, but not properly setting defaults.
Latest 1.3.x:
Updated manual available at Support - intellijel