I'll have to see if I can find a protractor… 30 sounds about right.
Any idea when 7u 104hp stealth cases will be back up on the website?
We are still filling Dealer backorders…
Keep an eye here, it's a good place to start your search:

Hey there, thank you for this information! So the 42hp and 84hp are discontinued, but the 104hp is still being made?
I ask because I have been searching hard (also refreshing wigglehunt constantly) to try to find the 4u 104hp— it's the only case which is perfect for what I need, and if more are coming, I may be able to wait, but if not, I need to get started with a custom build.
If the 104hp is still being made, can you give some kind of idea as to how long until they are available again?
Thank you!
Robert
Hi Robert,
The 4U 104HP cases are now back in stock in the Intellijel web store.
Yesssssssssssssssss. Thank you Scott!
I can't wait for them to be on site. Seem like a much better deal than dealing with distributors. I'm in Vancouver as well.
Been anxiously awaiting the palette cases, any day now??

I had a question regarding the depth, does the 48mm spec include the power? Are the power headers mounted up in the top portion like the pods so the full 48mm depth is available? Dreaming of this Industrial noise box: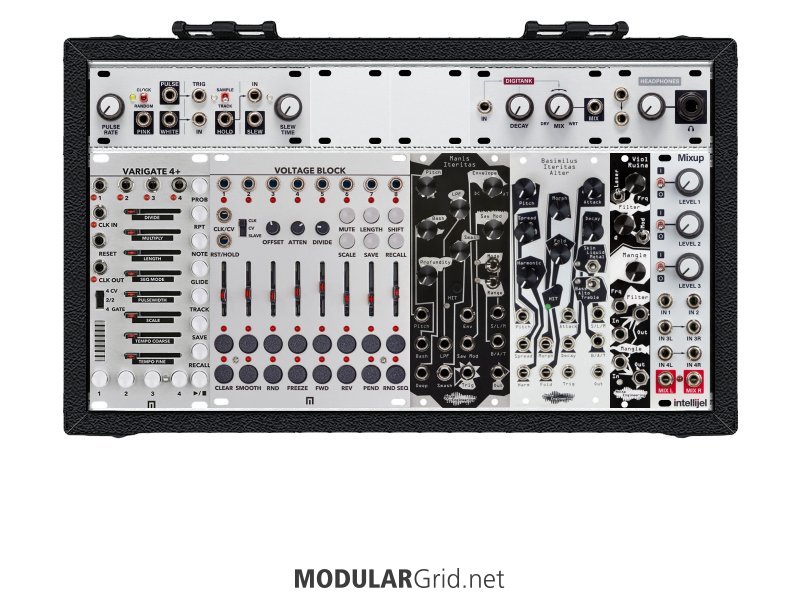 The 7U 84HP Stealth is in stock right now.
Yes, the power is mounted in the top wall under the mults and power switch/inlet so it leaves the maximum depth available.
My silver 7U 104HP showed up today. Bought it used on Reverb but the seller assured me it was in mint condition and it is…except there's no power supply to the wall


I've contacted the seller and hopefully it's just an oversight. If not, is there a way I can order a power supply for this?
You can buy the wall plug from the bottom of this page, 90 Watt AC/DC Power Supply is what you want.
https://intellijel.com/shop/power/triple-power-supply-80w-3u-6u-busboard/

The 4u 104hp are out of stock. when could I expect to be able to get one?
The easiest way to do this is to just buy some wood and a power board. You could paint it white if you want it to look better.
Will the 4U x 104hp still be available next year or future in general?
It seems to be removed from the website but the gig bag is still there.
The 4U 104HP case has been discontinued.
A new version based on the 4.5U Palette is now being contemplated.
Great news!
It would be awesome if you could add four 1/4″ audio jacks instead of two and maybe Midi (In/Out/Thru) like in the 7u Case.
I personally would like to one day mount a 4Ux104HP atop my existing 7Ux104HP using the side bracket slots.
@ohexoh have you ever heard of makerbeam? They might have something you would want but you would loose the folding capacity