Any update to when this module might be available?
I'm also very curious about this! Have been thinking about building my own, even.
Do you have any plans about it ? ETA?
sounds and looks just great! thank you!
Really need this. Are we any closer to release, pleeeeeez!
just me or its a new case in this video ?
Not just you. That's the new Palette 4.5U case…
Can't wait. Need new case. Very nice design

Picture won't display. What do you mean? You wish it had two knobs and some extra leds?
We tried to keep size as small as possible to save room for other cool 1U modules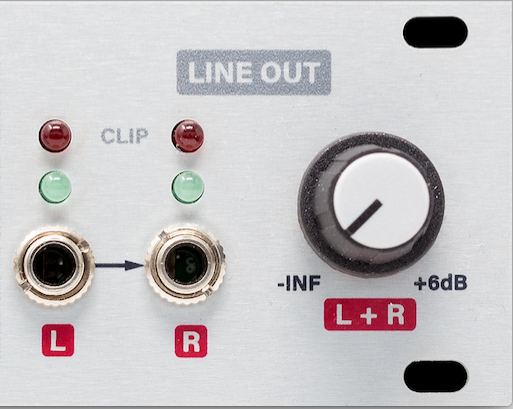 or with the current design, I would have preferred that the indicators be horizontally parallel with the jacks. But as long as it gets the job done.
The video for this guy is live now!
Hi everyone, I am wondering about all the Intellijel Out (and In) options and the best combinations. To compile my best options table I am also looking at the dub mix. Currently I have this connected (with the internal connector) to the old uJack in an Intellijel 4U skiff. This does not have any outs built in as the bigger 7U cases (of which I also have two - with the newer outs sub boards).
The question I now have:
could I connect the dub mix to any of the new Out options (the Outs 3U, the new 2nd gen outs sub board in the 7U cases) or the Stereo Out 1U) directly?
could I connect the dub mix into the chain of one or several Mixup's
is there a way to access the direct outs and/or the send/returns from the back of the dub mix and connect the similar to what was described above?
Thanks for any help,
Alexander
Unfortunately, Dubmix was made before all these new compatibility options, so I don't think any of them are possible. Definitely not the Mixups because they use a different type of ribbon cable with molex connectors.
However, it does look like the JP-µJACK-EXP uses a 6-pin header similar to the 2nd gen jacks board. If anything could work it would be that.
So just got 2 7u cases as I am moving from sf to minsk (!) but I can't find the stereo line out 1u anywhere. Anyone know where I can get?
or @ScottMFR is there an ETA on when they will be back in stock?
i discovered this nifty little tool… https://wigglehunt.com
mind your wallet now.

WHAT HAVE YO DONE TO MEEEEE
thnx!