I seem to have an issue with my Quad VCA specifically when breaking the normalization between CV inputs.
Steps to reproduce:
OSC into IN1. (eg saw from Dixie).
Monitor OUT1 (or OUT4 doesn't matter so long as you can hear the output).
Boost1 OFF (Boost doesn't matter but just set off).
Level1 min (ie full CCW).
Curve1 Response exponential (ie full CCW. The issue is far less noticeable when using linear curve).
CV1 envelope (eg Triggered or cycling Env from Quadra etc).
Adjust CV1 Attenuator until OSC is just audible. (ie until you can just hear Saw).
Now patch a cable into CV2 with the other side unconnected.
Expected: Nothing should happen.
Actual: Volume of Saw just got quite a bit louder.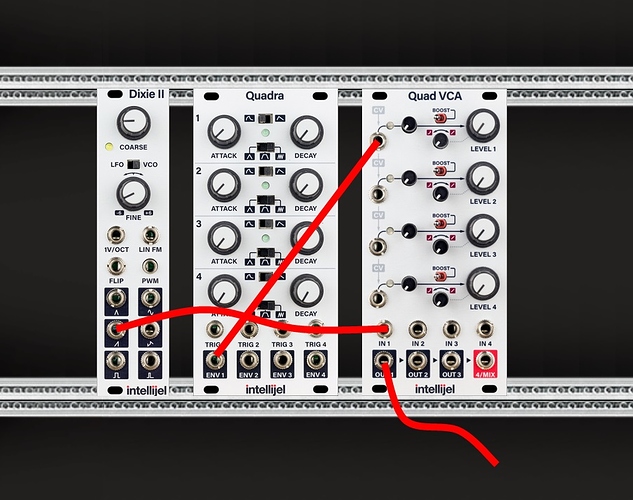 I have tested this on three different power supplies. Issue remains.
I have tested quite a few env's and LFOs etc. Issue remains.
Notice that if one uses a buffered multiple before sending to Quad VCA CV and
repeating the above steps the issue no longer occurs.
Can anyone repeat this issue on their Quad VCA?
Thanks,
Steve