Hey guys! Here I am with another concept for a new module. Only this time, it isn't necessarily to fix a problem that might not exist. I love using the planar2+ in polar mode, and taking the xy outs in bipolar mode. Lots of fun. But I have this theoretical patch that involves like six of these chained up together, with buffered multiples in between. Ends up making some chaotic madness, but sounds ** usually ** pretty great when sped up to audio rates. I sketched out a module that would be very simple (just two inputs and a lot of outputs) that could be done in theoretically 8-10 HP.
On the first row, there are two inputs, the cv 1 and 2 on the planar. Then there is a thru output (basically a buff mult of the inputs). After that, there are two pairs of outputs. The first is like the XY output on the Planar. The second is what that XY output would be if you swapped the two cv's (radius and angle).
On the next row, it internally routes a buffered signal from the first output pair, and treats it like this was now the two inputs. Again, two pairs of XY outs. The other half of this row does the same thing with the second XY outputs, to again provide two pairs of outputs after a polar conversion.
On the next two rows, it does this once more for each of the previous four pairs of outputs with eight outputs here (sorry for such a bad sketch but here it is!)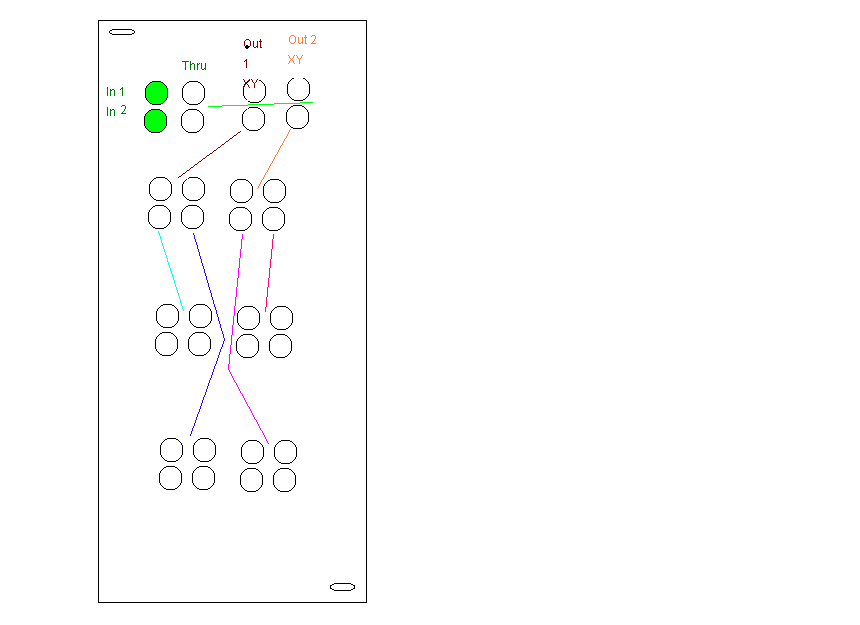 This is totally not to scale by the way.
So now the question:
I would buy this module!
I would not buy this module.
I don't understand this module